Classes & Lectures
Rita Sahai has served as an ambassador of India's rich musical heritage over the three decades that she has been in the United States. Through workshops and lectures she has reached out to the larger non-Indian community and educated them in the intricacies of Hindustani music. She conducts classes all over the Bay Area, from Sacramento and Berkeley to Fremont and San Jose. Her students come from varied cultural and musical backgrounds.
ONGOING CLASSES:
– Beginners, Intermediate, Advanced
– Classical & Light Classical Vocal Music of India, Bhajans
– Fremont, Union City, Mountain View, Berkeley, San Leandro,
San Ramon, UC Davis and Sacramento
Learn the basics of Hindustani music theory through group singing. Students learn five ragas per term through scale practice, short compositions and improvisation. Meets Mondays, 4:00–6:00 pm, in the Ethnomusicology Ensemble Room (Art Annex 101).
Course Information: MUS 148. Hindustani Vocal Ensemble (2 units)
Classes start January 9th, with a recital in June, 2017
also … 
SFSU North Indian Vocal Ensemble Class
Fall, 2017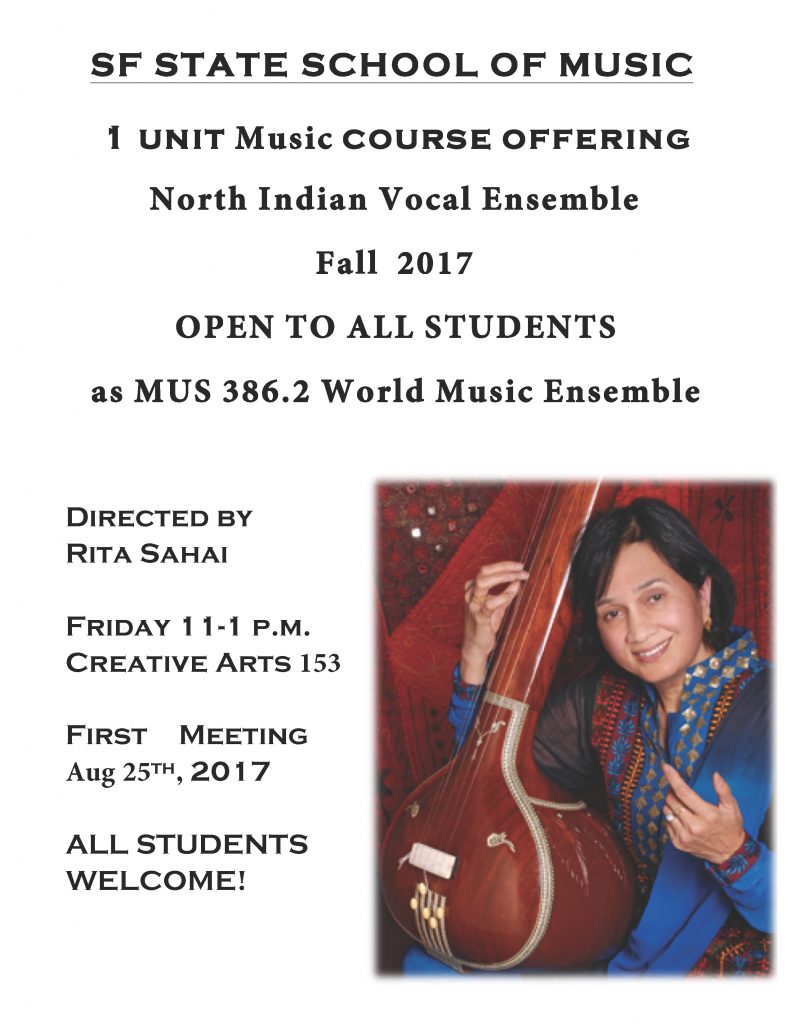 (please register as soon as possible)
Contact Rita for more details about:

CONCERT APPEARANCES

RECORDING SESSIONS

ONGOING CLASSES

LECTURE WORKSHOPS

SEMINARS

MUSIC DEMONSTRATIONS AT COLLEGES AND SCHOOLS

Call (510) 847-2020 or email: osmjmusic2@comcast.net