Khayals & Bhajans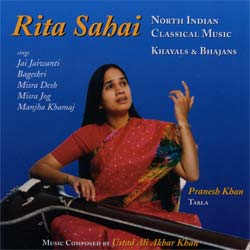 The classical music of North India, which is described as Nada Brahma, "the language of God," has been passed down from teacher to student in an oral tradition for thousands of years. This CD features original compositions by Ustad Ali Akbar Khan, the greatest North Indian musician of the twentieth century.
Track Listing
Listen to MP3
1. Raga Jai Jaiwanti
Slow Ektal (Bada Khayal)
 
2. Raga Jai Jaiwanti
Medium Jhaptal (Chhota Khayal)
3. Raga Bageshri Tarana
Fast Teental
4. Raga Misra Desh
Surdas Bhajan
5. Raga Misra Jog
Meera Bhajan
6.Raga Manjha Khamaj
Meera Bhajan

These mp3s require Quicktime for streaming playback.
If you do not have Quicktime installed in your browser,
click on the 'Get QuickTime' button below.