Meera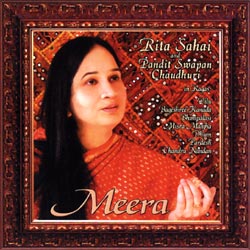 In seven memorable and touching original compositions, Rita Sahai's latest CD brings melodious rejuvenation to the eloquent message and heartfelt devotion of the legendary Indian saint Meera.
Track Listing
Listen to MP3
Introduction
by Gautam Gandhi
2. Dero Kiti Doora
Raga Pilu
3. Chhoda Mata Jajyo
Raga Bageshri Kanada
 
4. Sakhi Ri Laaja
Raga Bhimpalasi
5. Ho Ji Hari
Raga Misra Manjha
 
6. Paga Ghungharu
Dhum (Mixes Ragas)
7. Chhando Langar
Raga Pardesh
8. Awata Mori Galiyana
Raga Chandra Nandan

These mp3s require Quicktime for streaming playback.
If you do not have Quicktime installed in your browser,
click on the 'Get QuickTime' button below.