Rangmallika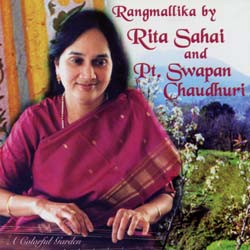 Colorful melodies of Hori Festival, Thumri style composed by Rita Sahai and featuring Pandit Swapan Chaudhuri on tabla. This CD is currently being considered for a Grammy nomination.
Track Listing
Listen to MP3
1. Kahna Ras Rang Bori
Based on Raga Kafi (Rupak 7 Beats)
2. Jhulata Radha Sang
Based on Raga madumalati
3. Phajun Massa
Based on Raga  Kirwani
4. Chaleri Aaj Brije Me
Based on Raga Shyam Kalyan
5. Shyam Ma Maro Pichkari
Based on Raga Khamaj
6. Ranga Bhari Ranga Bhari
Based on Raga Gara

These mp3s require Quicktime for streaming playback.
If you do not have Quicktime installed in your browser,
click on the 'Get QuickTime' button below.