Vasundhara
Past Events:
Saturday, November 21, 2015
JALARANJANI: The Moods of Water
Rita Sahai, prolific Bay Area composer, virtuoso singer and teacher of Hindustani classical music, announces yet another ambitious choral concert composed by her and performed by her multi-age Vasundhara Choir and distinguished Bay Area musicians.

Jalaranjani is about attuning to the different moods of water; the journey of life.
7:00 pm
Ohlone College, Smith Center Theatre, in Fremont CA.
In this, and two previous concerts – Navagraha Utsav in October of 2012 and the initial 2008 choir concert "Vasundhara ~ Ode to Mother Earth," – Rita Sahai illustrates that not only is she a soulful performer, a brilliant and prolific composer and a venerated music teacher, she is also a staunch environmentalist. Through her music, Rita seeks to remind us of our unity. Her music evokes a feeling of our Oneness; and unites us, once again, with life, nature, and with one another.
Delicately attuned to her surroundings, Rita listens; when immersed in nature's presence she feels the harmonics and their overtones, and she brings these natural rhythms to life through her music.
From the heights of the Himalayas to the depths of the Bay of Bengal, water, like each and every one of us, is a journey. We are the path. Akin to ourselves, water is very much alive; water breathes, adapts, and shifts form depending upon the environment it is present in. Water naturally seeks the lowest ground, flowing into every nook and cranny as it travels through our earth's many and varied mystical landscapes. As one, water melds with its surroundings, streaming and stirring in myriad rhythms all along the way.
Water ever so gently transforms all that it touches. It can appear patient or impatient, however, it gives of itself unconditionally through simple presence.
Saturday, October 27, 2012
Navagraha Utsav: Celestial Celebration
Rita Sahai & her Vasundhara Choir w/ Jennifer Berezan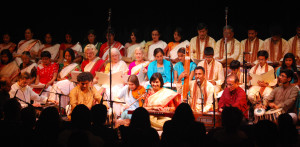 An offering of classical Hindustani ragas in praise of the Universe
8:00 pm
Freight & Salvage Coffeehouse
2020 Addison Street / Berkeley, CA 94704
View more photos and the poster for this event l Read a review of the concert.
Navagraha Utsav: Celestial Celebration
Following on the heels of her 2008 choir concert Vasundhara dedicated to Mother Earth, Rita Sahai composed a concert in praise of the Universe, represented by the nine celestial influences or planets of ancient Vedic astrology called nava graha. Seven of the nava grahas correspond with the seven days of the week: the Sun with Sunday, the Moon with Monday, and so on with Mars, Mercury, Jupiter, Venus and Saturn. Rahu and Ketu are the other two grahas which correspond to the two lunar nodes.
Rita has honored the nine unique grahas with a constellation of corresponding ragas, lyrics and compositions in Celestial Celebrations – Navagraha Utsav. Thus the moods of the compositions range from happy, creative, respectful and romantic to the sombre and even the martial. "The planets dance like our lives are dancing. They give us a sense of rhythm", says composer Rita Sahai. "They are mostly unseen forces that govern our lives and we respect them, just as we value Mother Earth", she adds.
Saturday, October 4, 2008
Vasundhara ~ Ode to Mother Earth, 2008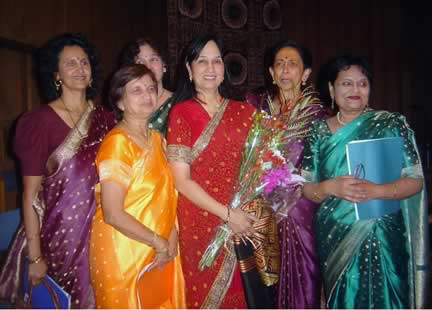 Photo credit: Celestine Star/GoldenStarProductions.com; Michael Olsen/ZorkMagaizne.com
A World Premier Recital presented by Rita Sahai and her students:
a Hindustani Choir of 40 singers of all ages, plus guest musicians
7:00 pm
St. John's Presbyterian Church
2727 College Ace, Berkeley, CA 94705
View the poster for this event l View the postcard for this event
Read the India West article about the concert. l Read a review of the Vasundhara concert.
Vasundhara ~ Ode to Mother Earth
In ancient India, the Vedic sages united their voices and hearts in hymns that express their gratitude for the life-giving abundance of Mother Earth, and their understanding of the intricate and indispensible relationship between living beings and the elements of nature. They saw the earth as the precious abode of one extended, universal family: Vasudhaiva kutumbakam.
On October 4th, this vision will be expressed with fresh urgency by the collective voices and music of a huge Hindustani choir in Vasundhara: Ode to Mother Earth. Acclaimed classical singer and composer Rita Sahai will lead her choir of 40 uplifting voices and instrumentalists of multiple ages and cultures in an evening that offers even more than a fabulous performance. They will stage an elegant, non-violent protest against the negligent destruction of Mother Earth.
This is not the usual benefit concert for the environment, but a stunning musical experience to awaken our hearts and minds to our responsibility to love and protect the earth we walk on, the air we breathe, the water we drink, the source of the food that sustains us. In the universal language of music, Rita Sahai and her choir will speak out for Mother Earth.
Vasundhara will engage the power of classical ragas and collective voices to elevate our awareness of the consequences of global warming, of the need to resolve conflict and share resources as one global family. Rita Sahai's intention is that the music itself will awaken the power of non-violence in people's hearts, and the ability to see past our differences of color, community and religion.
Born into a musical family at the beautiful confluence of two sacred rivers in North India, Rita Sahai began studying classical music when she was nine years old. Her father was deeply dedicated to Gandhi's ideal of non-violence, and Rita often joined him and the huge joint family she grew up amongst in helping with relief work for those struck by harship. They lived placing their ideals before their comforts, and this continues to throb in the splendor of her music today.
After moving to California, Rita had the opportunity to study with the world famous maestro Ali Akbar Khan, under whose guidance and inspiration she emerged not only as technically flawless performer but as such a talented and passionate singer that her teacher gave her the title Jewel of Music. Her own compositions have been described as "transcendent, ravishing, gorgeous", her voice "stretching single notes into entire musical landscapes" and "stormy and electric as the coming of rain after a long dry season."
In addition to her own CDs, Rita lends her voice to diverse musical projects including vocal tracks for Grammy Award winning blue grass artist Bella Flack and performing on Alonzo King's Sacred Texts, a CD of international music that won the Isador Duncan award for musical excellence. She performs throughout the US and teaches throughout the Bay Area and on the faculty of the UC Davis Department of Ethnomusicology.
Her musical compositions are often inspired in her dreams and take expression in her hours of devoted daily singing. And her father's ideals of non-violence and respect for the earth and all humankind are a constant theme in her music and teaching.
In Ode to Mother Earth, both youthful and mature voices will sing together with thrilling energy to evoke the experience of a journey through the cycle of the seasons. First the colorful joys of spring will dance in the air, a glimpse of fields of wildflowers and baby birds. This will melt into the heavy summer heat and a cuckoo singing soulfully from the shade of a mango tree, amidst the sweet fragrance of its ripening fruit. Monsoon will break loose with thunder and lightning, torrential rain and peacocks dancing for joy. The rich autumn will unfold with harvest festivals, grains and fruits piling high, and storing up the gifts of the season. Finally the chill of winter will set it, with snowflakes fluttering through the invigorating air, moonlight falling on fresh snowfields. The music will evoke the solidity of mountains, the surge of the oceans. Through the power of ragas, the music and voices will then move through the natural cycle of the day: from the first light of dawn, through the vibrancy of high noon, to the velvety darkness of night.
Ode To Mother Earth was born as a prayer to evoke our awe and love for the earth on which we live, and for our fellow human beings. It has been composed in the universal language of music, a language that unifies people and creates peace, both individually and collectively. Their united voices will resound powerfully to stir a collective remembrance that the earth is not a commodity but the source of life for all living beings.
To sponsor and support our Endeavor Vasundhara, please donate here.